Shower Screens Gold Coast
Building a clear future with Shower screens
The trusted Gold Coast SHOWER SCREENS Experts for residential, commercial &

industrial installation and repair
Murphy Glass & Mirror Gold Coast Service Provides High-Quality Products and Shower Screen Installation with Genuine Care
Glass shower screens are quickly becoming the norm in Australia due to the restricted bathroom space. Installing a glass shower screen can create the illusion of space in a bathroom and provide an abundance of natural light.
At Murphy Glass & Mirror, our experts can install glass panels and provide a premium finish that minimizes the amount of water that flows outside the shower.
With the aluminium framing and quality finish, glass shower screens transform a bathroom from drab and sterile to vibrant and luxurious.
The right shower screen can create more space in a bathroom and improve the overall aesthetic. Our Gold Coast shower screens will make your home look more modern and luxurious.
Glass shower screens can be the centerpiece of a beautiful bathroom if well taken care of. Our shower screen repairs Gold Coast service will help you do just that!
At Murphy Glass & Mirror, our team can install, fit, and custom cut glass panels to suit the design you've envisioned for your bathroom.
There are 4 main types of shower screens installed by our Gold Coast professionals:
Frameless Shower Screen

Frameless Shower Panel

Sliding Door Shower Screens

Semi Frameless Shower Screens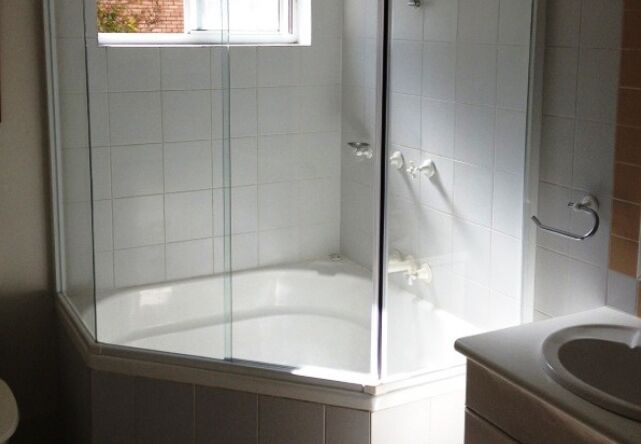 Picking the right type of glass is very important for bathrooms; especially with the limited space that you may have to work around. Customized glass cutting helps with this issue by providing a fit-to-size solution.
With years of experience, Murphy Glass & Mirror Gold Coast team can give you expert advice on the right dimensions for your bathroom. Our range of shower screens and glass sliding doors can encompass all areas of your bathroom.
Call us today for an obligation-free measure
Frameless Shower screen Gold Coast
Frameless shower screens have become very popular over the years. Compared to fully framed shower screens, they cost less and are suitable for almost any space.
As the leading company in all matters of mirrors and glass, Murphy Glass & Mirror has a wide range of unique frameless shower screens.
Gold Coast residents call upon us to create a refreshing and attractive space thanks to our high-quality panels and beautiful mirrors that complete the look in any bathroom.
To complete that inviting and regal look, our glazier experts recommend the addition of glass splashbacks. Not only are they easy to clean, but they also add an extra bit of flair with some color or printed design.
Semi Frameless Shower Screens
When it comes to selecting shower screens, there are many things to consider. A semi frameless shower screen provides homeowners with the best of both worlds – a frameless interior and an enclosed exterior.
If you'd like some added support for your wardrobe doors, semi frameless wardrobe doors are just for you. With similar features and advantages as the frameless screens, the only difference is in the doors and panels.
Semi frameless wardrobes have a slim continuous frame for added strength and support. They also have a sleek finish for a nice, contemporary look.

For the best in shower screens, bathroom cabinets, and sliding glass door panels, choose Murphy Glass & Mirror
We have a team of professional glaziers who will turn your bathroom into a masterpiece. Our team is highly experienced and committed to providing you with exceptional services.
We'll also provide high-quality products so you won't have to worry about maintenance for a long time to come.
Are you looking for reliable glass products and services? Call Murphy Glass & Mirror. We'll make sure you get high-quality services with genuine care and attention.
CONSIDER MURPHY GLASS AND MIRRORS FOR YOUR GLASS NEEDS?
We are a family business that has built a fantastic reputation throughout the Gold Coast and Queensland region. The glass company is Australian-owned and provides some of the best Australian glass to Gold Coast residents.
Whenever you are in need of glass replacement or any glass service in Gold Coast or its environs, remember to choose us for the best services. Murphy Glass and Mirror will provide you with timely services from our qualified professionals. We will care for your glass and mirrors Gold Coast as well as glass sliding doors Gold Coast.
Reach out to us for a free quote for our services.
25/27 Motorway Cct Ormeau QLD 4208