Bathroom Mirrors Gold Coast
We Are Passionate About Mirrors!
Building a clear future with Mirrors
The trusted MIrror Experts for home, commercial

& industrial mirror installation and glass repair
If your are looking to adding some breathtaking and lavish addition to your bathroom, then a bathroom mirror is the best feature for your home or commercial space. Nothing impacts a guest or a client more impressively than a custom made full length mirror designed to fit your bathroom to perfection. Regardless of the type of house and interior finish, there is no space that a bathroom mirror cannot transform. However, for you to be get the complete value from a bathroom mirror, you need to install one with the highest quality to get that contemporary beauty which is associated with such mirrors. To obtain a full range service complete with experienced mirrors bathroom glaziers, top notch customer service and quality workmanship, there is only one mirror company in the Gold Coast which is known for such qualities.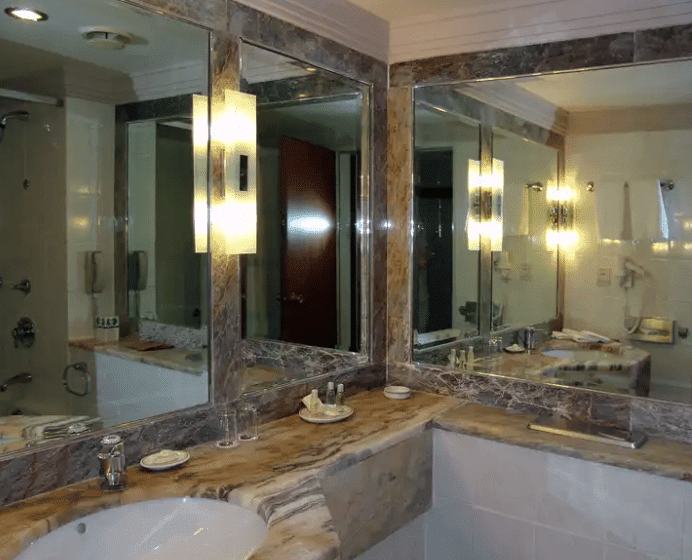 Murphy Glass and Mirrors. Mirrors and glass are our forte having installed, repaired and replaced bathroom mirrors for residents and commercial business owners in the Gold Coast area for over 30 years. Our customer base has increased over the years thanks to exceptional service and superior, quality products that are installed by our licensed, well-trained and qualified team of professionals. In addition, our team always makes use of the latest installation techniques and give the appropriate recommendation to ensure that all our bathroom mirrors they install are a perfect size and fit. If your bathroom is in Robina, Upper Coomera, Ormeau, Varsity Lakes, Nerang, Labrador, Helensvale, Oxenford, Ashmore, and Elanora, Burleigh, Coolangatta, Tweed Heads and the Greater Gold Coast area, your search for the best wall mirrors, frameless mirrors or bathroom vanity mirrors has come to an end.
Did we remark on our competitive market rates? To make sure our quality mirrors bathroom service is available to a number of homes and business spaces, we ensure that the price of installation, repair and what not is affordable across all budgets. Contact us today via call or email and get a free quote for our premier mirror service that will meet your needs.
Trusted and Quality Mirrors Full Length
For the complete and impeccable mirrors bathrooms look, only the best quality products should be used for your bathroom mirror. Unfortunately, there are a number of cheap and poor quality mirrors in the Australian market. Such wall mirrors might be affected by excess fog and steam in the bathroom and in time, you may see some discoloration and rust on your mirror.
Don't take any chances with regards to your mirror. Your bathroom is just as important as any room or space in your development. Consult your mirrors experts to provide custom fit mirrors made and installed with adherence to regulations and standards. Contact Murphy Glass & Mirror via call or email and receive a free quote. You can also get in touch with us by filing in our online form. A member of our customer service team will get in touch with you shortly.
Bathroom mirrors come in various styles, sizes and materials. With the available options and different modern specifications, it might be a lot for you. You might ask yourself," Where do you start?" You might be spoiled for choice. The only thing you are sure of is that you want to create or transform your bathroom into a beautiful room. Have no worries. You are in the best place in the whole of Australia. And this is thanks to our well experienced bathroom mirrors specialists. Our team of glaziers have worked for many decades in the area. They can offer stellar recommendation to any questions you may have regarding any mirror.
Our Wide Range of Bathroom Mirrors
Custom fit mirrors are becoming one of our most requested bathroom mirrors service. This information passed on by our customer service team and confirmed by our team of experts reveals the increase in demand. What this informs us is that Gold Coast residents want to add something unique and special with every mirror installation to the room. A custom fit mirror also comes handy when your the space is not large. Despite the wall and other fittings in your bathroom, a custom fit mirror can do wonders, giving the illusion of a much larger space.
Installation of mirrored mirrors to homes and businesses in the Gold Coast has also been on the rise in the Qld area. And you cannot blame home and business owners for falling in love with this type of mirror. The mirror has proven to quite the addition in small spaces for homes and common areas for commercial space. The mirror as well mixes up things as it brings about a different style to.
For installation and repair of any type of mirror, call upon your Bathroom mirrors Gold Coast experts to provide quality service. At Murphy Glass & Mirror, we are committed to satisfying the glass and mirror needs of all our clients.
Looking to install some round bathroom mirrors into your home or commercial space?
You can not just trust anyone who purports to provide a mirrors wall service to install a custom sized mirror to your bathroom. Call on the number one glazier business in the Gold Coast Area and receive a free quote for the service that you require.
For Mirrors On The Gold Coast Call Us Today
Call Now If you live on Gold Coast and want to know more about our wide mirror selection, or you just have a query about the mirror you're looking for; pick up the phone and call. Our reliable Mirror team is always there to assist you with a smile.
CONSIDER MURPHY GLASS AND MIRRORS FOR YOUR GLASS NEEDS?
We are a family business that has built a fantastic reputation throughout the Gold Coast, Brisbane, and Queensland region. The glass company is Australian-owned and provides some of the best Australian glass to Gold Coast residents.
Whenever you are in need of glass replacement or any glass service in South East Queensland or its environs, remember to choose us for the best services. Murphy Glass and Mirror will provide you with timely services from our qualified professionals. We will care for your glass and mirrors as well as glass sliding doors.
Reach out to us for a free quote for our services.
25/27 Motorway Cct Ormeau QLD 4208